From Zero to Hero: How Bank Exam Coaching Centres in Chennai Help Beginners Succeed
Professional support and guidance are crucial to boost your knowledge and ace the IBPS exam. The best bank exam coaching centres in Chennai help you prepare methodically and appear for the exam with confidence. At these centres, you can hone your aptitude skills and advance your exam preparedness to become a hero from zero. Additionally, professional coaching institutes create a positive environment to foster learning in a disciplined manner.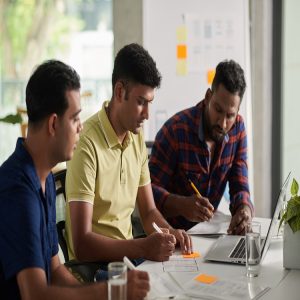 Offering the right direction
The faculty at the bank exam coaching centres in Chennai is experienced, trained, and qualified to offer expert advice. This advice can help you understand the exam pattern. Moreover, through interactions with learned professors, who are sometimes ex-public sector bankers, you can learn about what you need to crack the competitive exam. When you have the right direction for your preparation, you save a lot of time. 
Creating a learning environment
Premium bank exam coaching centres in Chennai provide the much-needed resources and infrastructure to encourage learning amongst candidates. The concept-building and doubt-clearing sessions on every topic help you master the syllabus. Besides, your interactions with experienced professors and other students gearing to face the same challenges as you increase your motivation. You can build a study group with like-minded aspirants by making the most of the learning infrastructure. 
Access to useful teaching aids and the latest study materials
A coaching centre provides well-researched study material, mock tests, and previous years' exam questions to help you ace every section of the exam. Furthermore, students have access to real-time training methods aligned with the latest examination trends. With speed tests for every topic, chapter-wise exercises, and diagnostic tests, you can check your level of preparation and improve your accuracy. 
The many benefits offered by bank exam coaching centres in Chennai make it worthwhile for aspirants to join. The most prominent benefit of these institutes is their mission and vision to support students and work toward their best interests. CSB Coaching Centre in Chennai strives to help beginners succeed through an atmosphere focused on learning and growing. Start preparing with them early to increase your chances of cracking the exam.